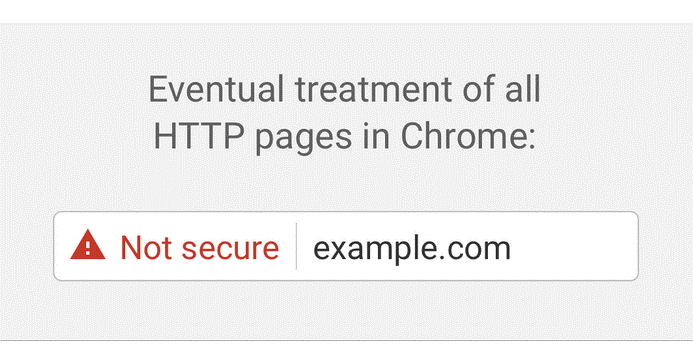 If you're reading this, chances are you don't have an SSL certificate on your website yet, or you're toying with the idea of getting one. Or maybe you don't know what an SSL certificate is, and want to know why it's imperative to have one moving into the new year.
First things first, having an SSL certificate on your website means you've taken the steps to ensure you site is secure for users. You may have noticed the words "not secure" popping up on the top left corner of the address bar of certain websites these past couple of months. These are the sites that don't have an SSL certificate.
A URL preceded by the "Lock" icon and 'HTTPS' signals that a website is protected with a Secure Socket Layer or SSL certificate and thus HTTPS-enabled. It is an indication of the website's security status whereby the HTTPS encryption protects the channel between a user's browser and the website being visited. This ensures that the user's information – passwords, personal details, financial details, etc., are safe from spying or theft and prevents malware threats.
In short, an SSL certificate helps you get a communication protocol for secure web-browsing and communication.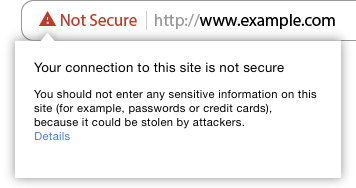 Why does it matter?
Imagine for a moment that your website is your home. SSL acts as a lock that protects your website from break-ins, data thefts, and other malicious actions, helping your audience and visits feel secure. The lock icon is like a brightly-lit entryway that assures arriving visitors that your home is safe.
In the past, having an SSL was considered a sensible choice for website owners. Today, it's no longer an option.
The Google push turns to shove
In 2014, Google first announced its commitment to 'HTTPS Everywhere' on the web. Since then, it has actively encouraged the use of HTTPS designation and even rewarded those who took action. This year, the search engine giant is finally done with the pleasantries, and therefore, not having an SSL Certificate on your website moving into 2019 means two things:
1. Your visitors are warned not to share their personal or financial information with you. This not only puts a dent on your credibility but also encourages potential customers to visit a more secure website – probably one of your competitors.
2. Your site's SEO performance may be affected. It was back in 2014 that Google first declared HTTPS to be a ranking signal, albeit with a small impact. Over time, with Google's "HTTPS Everywhere" commitment getting stronger, HTTPS has gained more weight as a ranking factor. And not only that; not having a secure website also influences other important metrics that search engines use to decide which websites to rank above others, such as how long a visitor stays on your site or how early they leave.
How to get on board
Fortunately, an SSL certificate is affordable and can be set up quickly using these simple steps:
Host website with a dedicated IP address (website with shared IP are not eligible)
Create and buy a certificate
Activate the certificate (This can be done by the web host but it's best to check before proceeding)
Install the certificate (Also done by the web host, check before proceeding)
Update your site to use HTTPS
You can use trusted plugins like, 'WordPress HTTPS'; automated services like, 'Let's Encrypt'; and Google tools like, 'Lighthouse' to obtain an SSL certificate, but be cautious of where you decide to get it. If you're unsure of the next steps or exactly what you need, seek the help or guidance of a professional. If you're considering adding SSL to your website, it's important to work with a reputable company you and your customers can trust.
Long story short
Getting an SSL certificate is critical to prove your security and commitment towards safety, stay in the good graces of Google, improve your SEO rankings, and make this whole opportunity worthwhile. There are clearly more advantages to be SSL certified than not.
Are you ready to make the switch?
If you're ready to move your business website to HTTPS, our experts can help you do so successfully. Get in touch with us today to get started or to learn more about the process. We're happy to make the switch to SSL for you or guide you and your team through the process.